Love-Ocean
Love-Ocean is located in Kuantan, Pahang. Overlooking South China Sea, the city is 278km away from Kuala Lumpur (approximately 4-hour car ride away) and 380km away from Singapore. Love-Ocean is a development project managed and funded by IBN Lovocean Sdn Bhd. It combines beautiful sea view with accommodation such as hotels to provide a unique experiential vacation experience.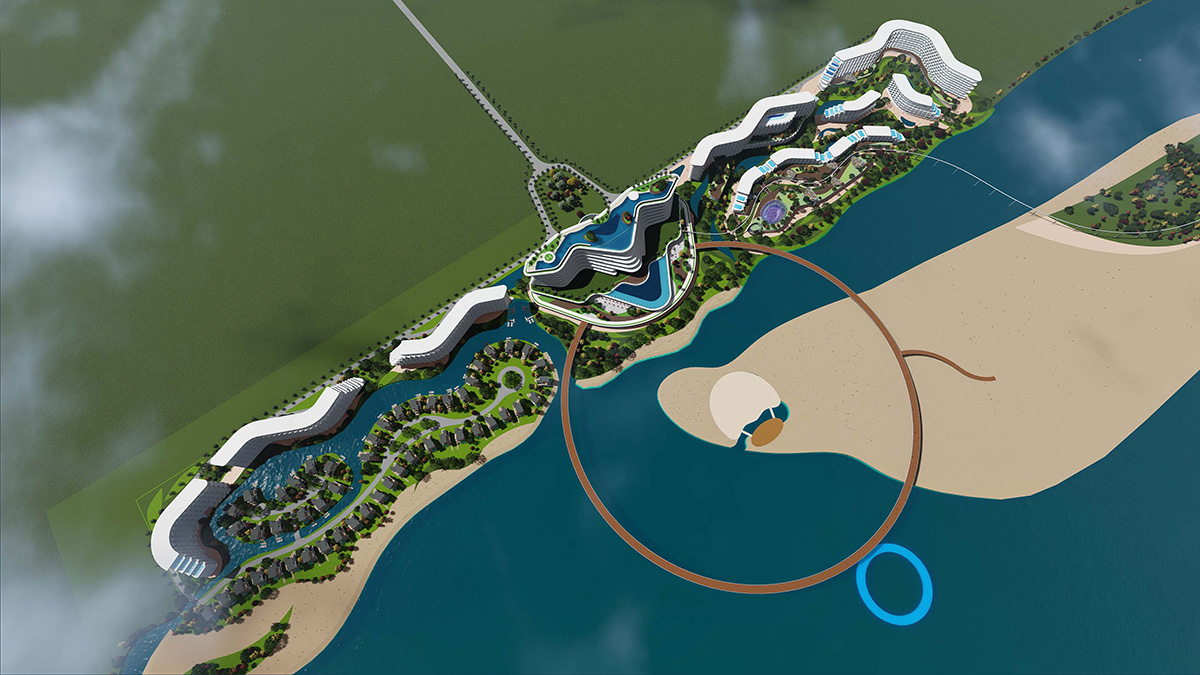 The project covers a total land area of 1,710,080 m2 with a floor area ratio of 0.95 – buildings covering a land area of 1,060,800 m2. The nett floor area is 915,700 m2 including 744,800 m2 for apartment, 118,700 m2 for hotel, 15,900 m2 for resort, 34,100 m2 for commercial area and 2,200 m2 for others; The basement and surrounding exterior shared areas covered with roof takes up 145,100 m2.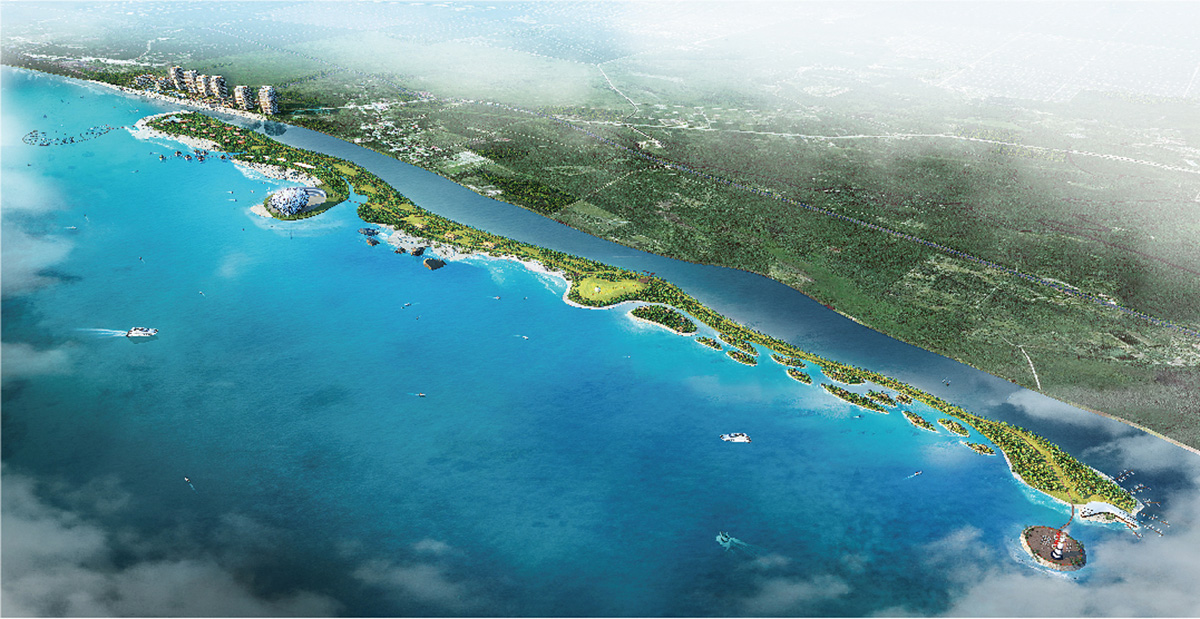 Transportation
In terms of connectivity, Love-Ocean is equipped with a fully developed transportation system that enables people to travel on the island and in between islands, offering round-the-island services. On the island, roads are built to connect the different areas and towns; Boat services that connects the northern and southern harbors of the island are readily available; Tourists can enjoy scenic beach views during the round-the-island boat trips.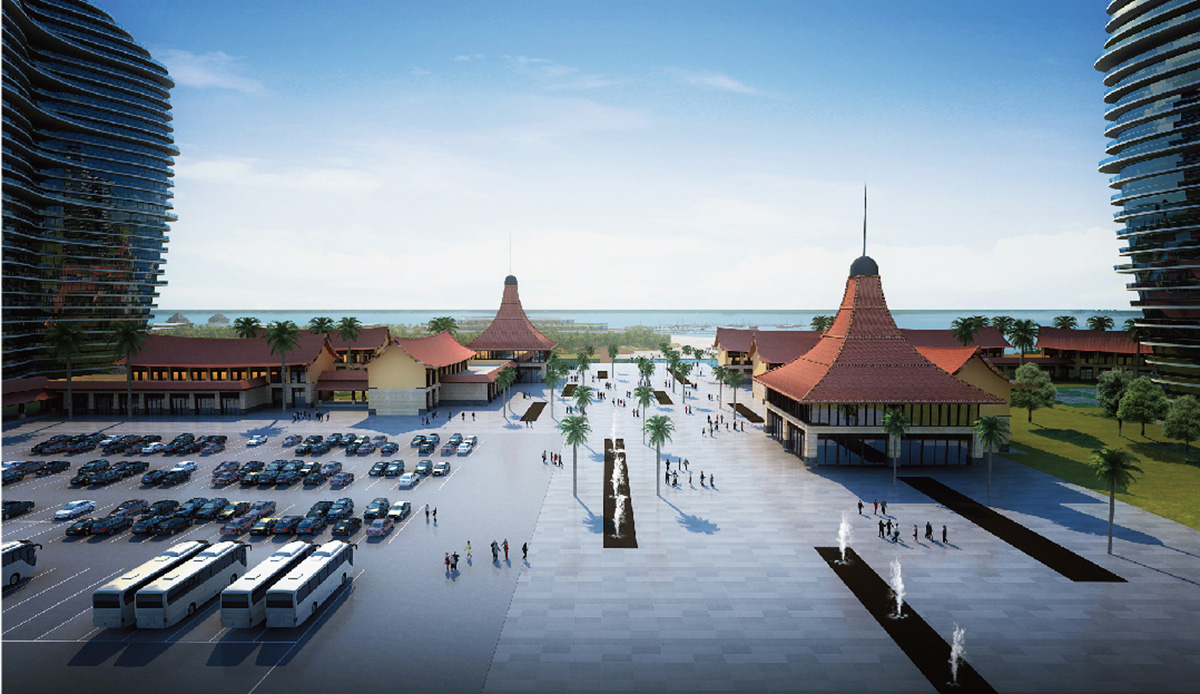 Attractions
Love-Ocean is set to be built on an extremely long stretch of beach. There are three types of attractions that will be integrated in the development of the city. The first type of attraction utilises natural resources in its simplest form, particularly the sandy beaches to provide tourists with water sports activities, such as surfing, coral exploration and others; The second type of attraction integrates the surrounding nature with facilities to create unique point of interests, such as wedding halls, forest-themed hotels and others; The third type of attraction involves a full tourism development to produce high end facilities, such as private island resorts, yacht club and others.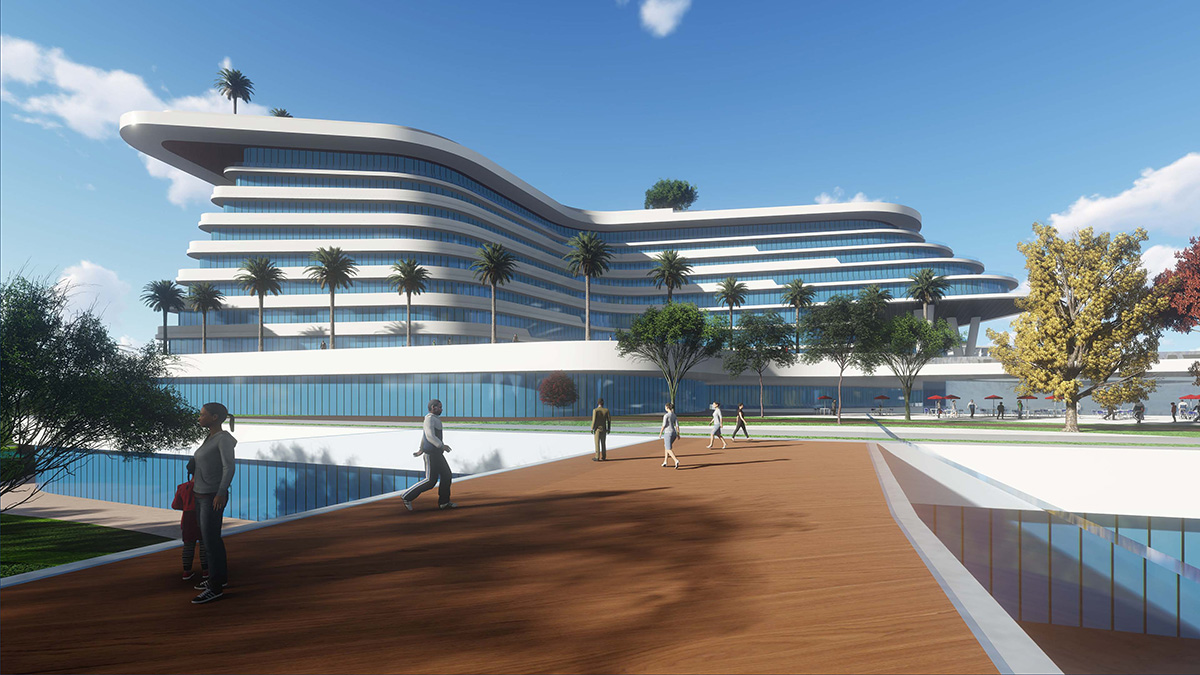 Zones
Love-Ocean is separated into six zones, each with its own theme – Blessing of the Light, Carefree Islands, Fairyland Adventures, Starlight Ocean, Magical Forest and Love-Ocean Pier. Each of these zones are targeted at different audiences to meet their needs.
Blessing of the Light
Located at one end of the island is a lighthouse, the landmark of this zone. Underneath the lighthouse is a huge round wedding hall, which can also be used for many other kinds of celebration and activities. The hall is designed to provide the perfect wedding – the roundness of the hall symbolises completeness and togetherness; the lighthouse act as the guiding light towards a better future.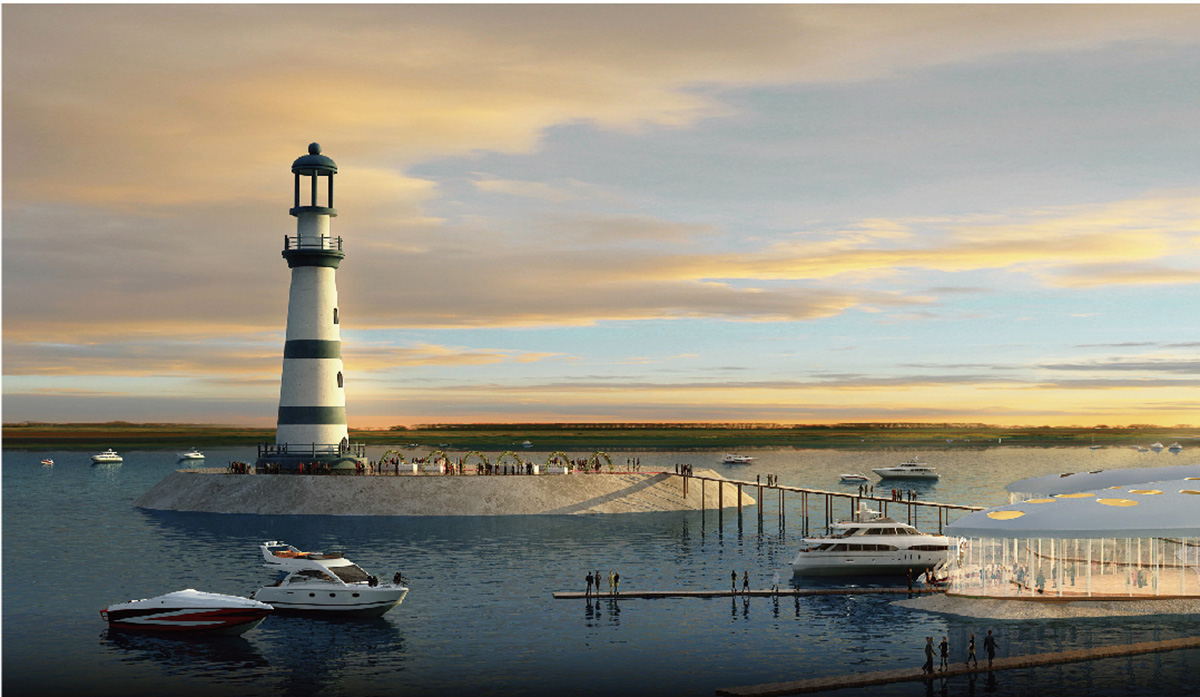 Carefree Islands
Carefree Islands is comprised of 12 independent small islands and one big island. Separated by the ocean, each island provides utter privacy for those who can afford it, allowing them to be close to the sea and soak in the peaceful environment.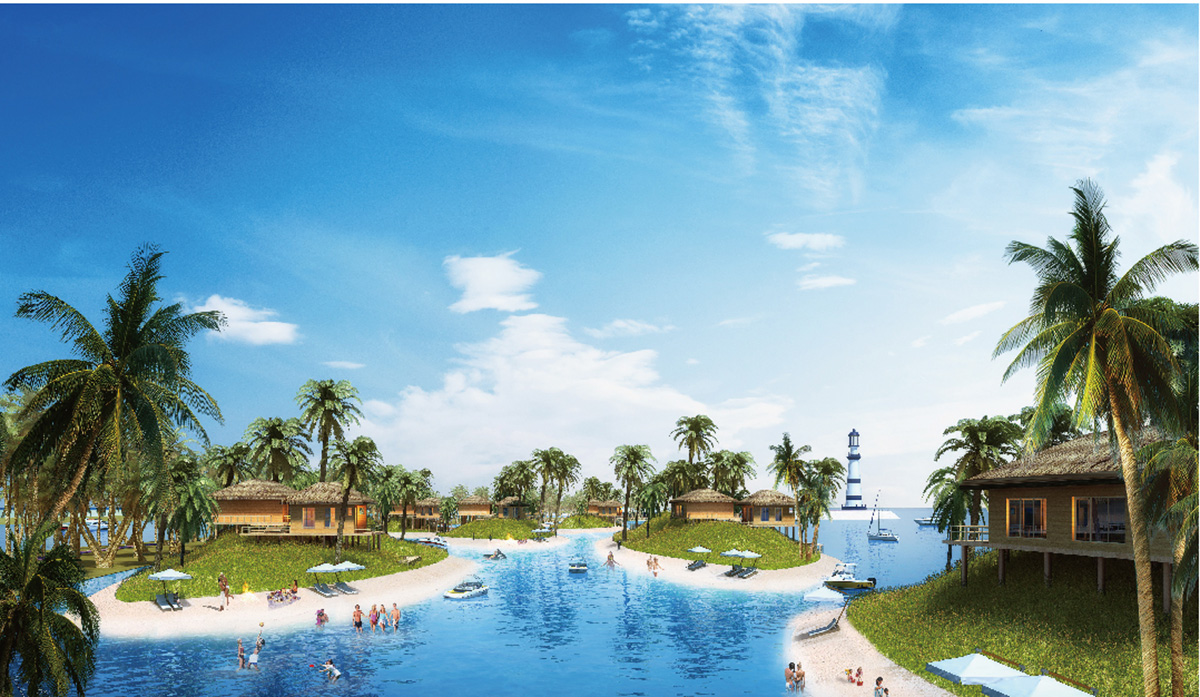 Fairyland Adventures
Fairyland Adventures is a zone that taps on humans' innate trait of curiosity. By utilising the geographical advantage of the island, it is able to offer adventure trails, water sport and coral reef exploration, providing tourists with a thrilling and memorable experience. This zone is suitable for families to have fun together, companies to conduct team building activities and individuals who enjoy challenges.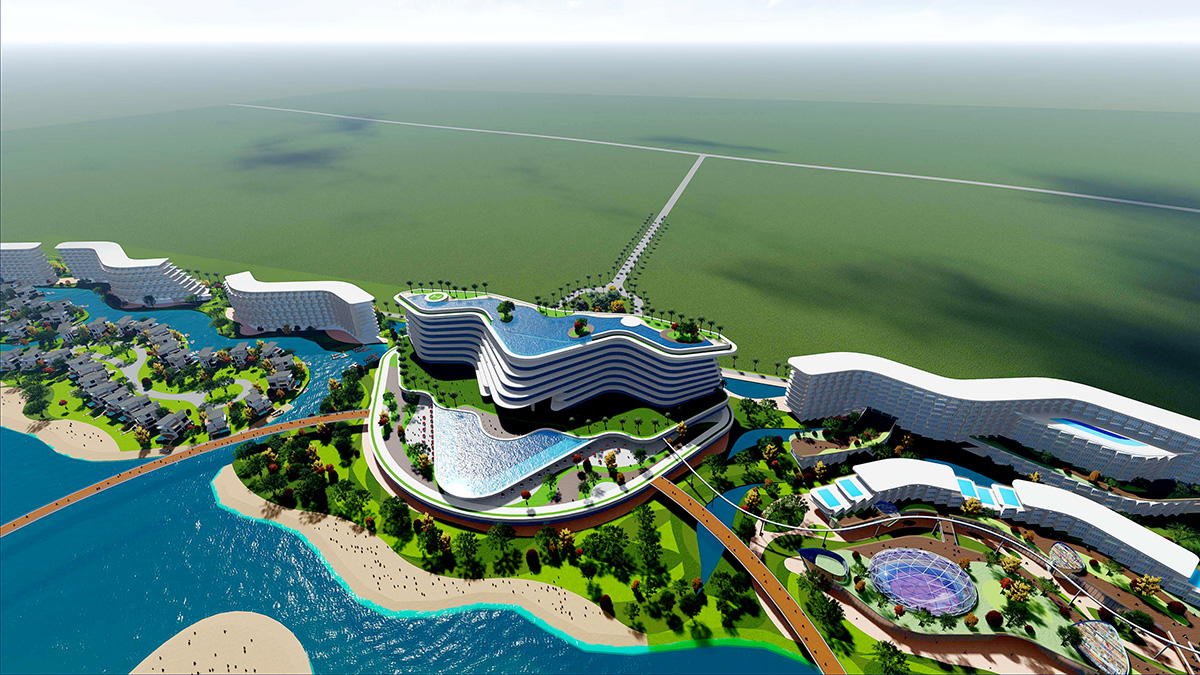 Starlight Ocean
Starlight Ocean is the sanctuary for music lovers. Sitting by the ocean is a grandeur concert hall with a state-of-the art design – the stage is designed based on a seashell that becomes alive during concerts and it is filled with curving seats arranged in sloping tiers. The zone also has beach filled with music and bars, an ideal location for young adults to visit and party.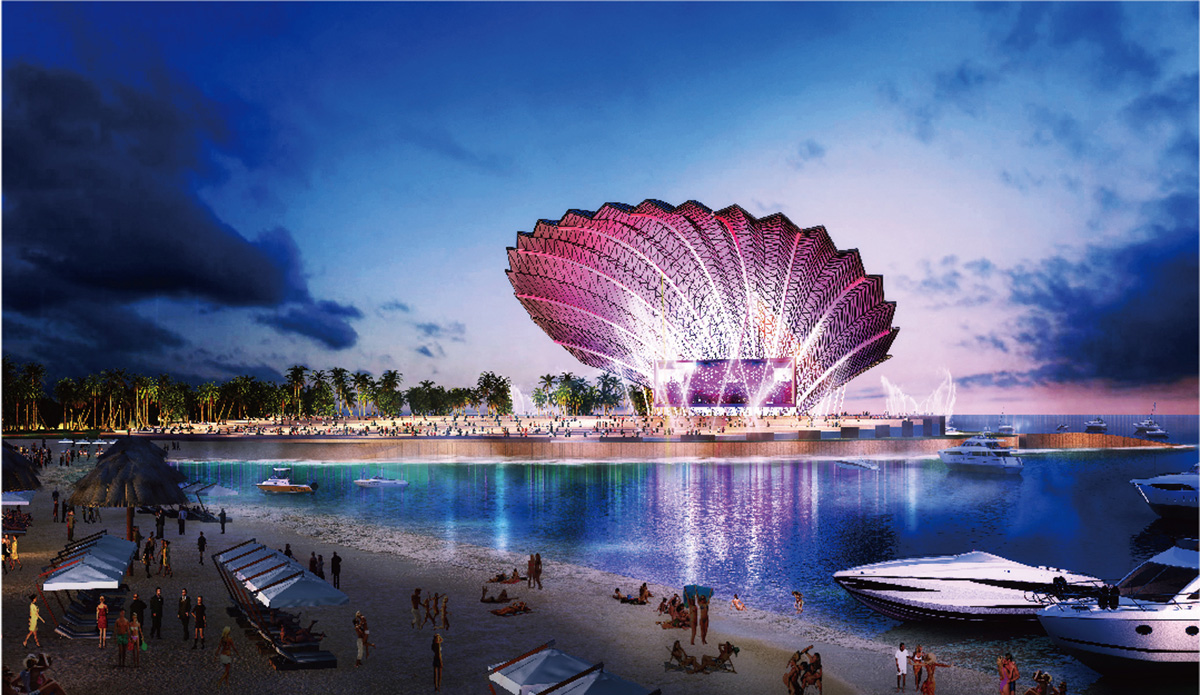 Magical Forest
Magical Forest has everything you want during vacation – from forest to the sea, from fishing during the day to camping in tree house with camp fire under a starry night. Located on the sea amongst the mangrove forest, the Magical Forest offers tourists the ultimate spiritual retreat for those who are seeking to be near to nature and heal their soul.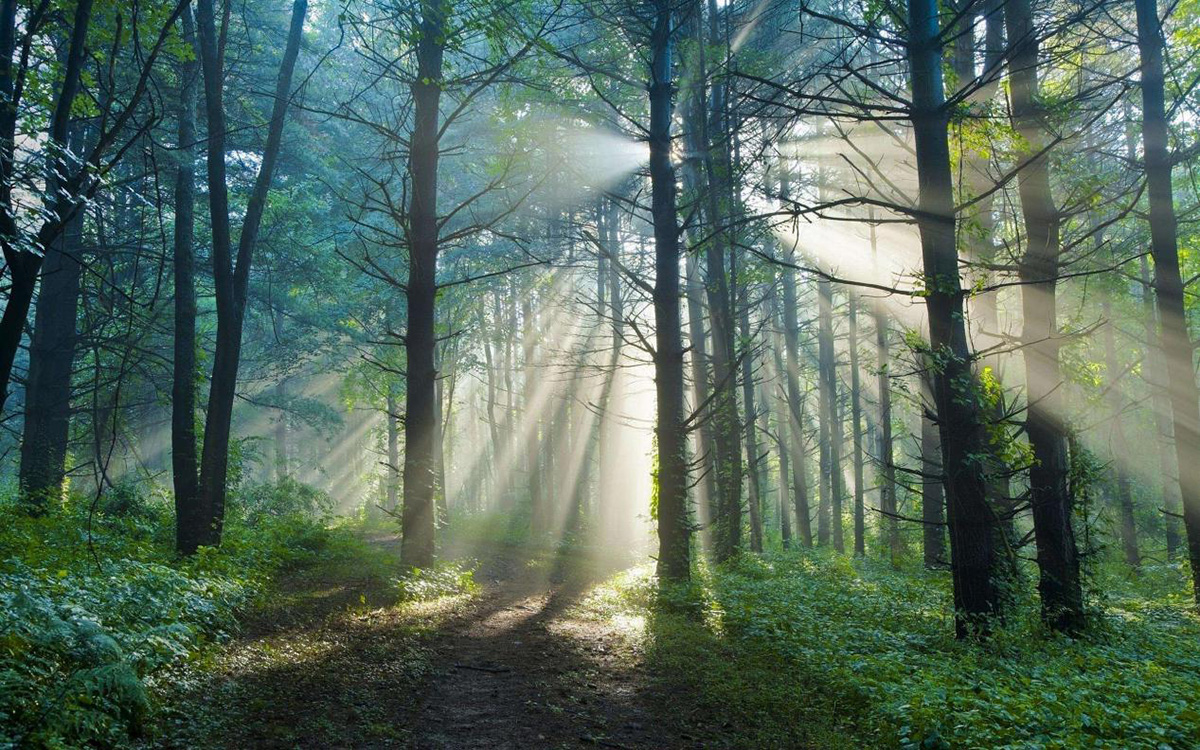 Love-Ocean Pier
Love-Ocean Pier retains the original state of the long beach as the boating venue. The white pier has rows of white yachts and cruises docked on the clear blue sea is the perfect reflection of the sky. Looking from afar, it is as if the ship horn is about to sound for the departure of these yachts and cruises, a truly magnificent sight.